How To Measure Your Improvement
If you track your metrics on a daily, weekly, monthly, and yearly basis it will tell you how you're really doing. It doesn't matter if we think we are working hard or not. We need to use our metrics to find areas of improvement and more importantly realize that improvements mean more money!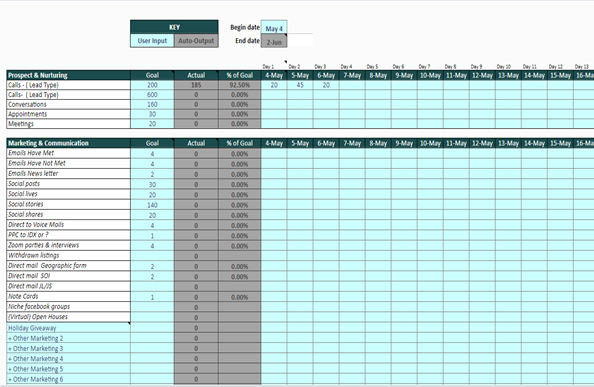 This spreadsheet will help you track important information and your finances. You can track all of the sales and marketing activities you do. Write down other things that are important to you, like budgets and transactions.
The next thing you want to do is make a list of each of your lead sources, and write down the following for each lead:
Number of leads from that lead source
Number of transactions from that lead source
The conversion rate, and what rate you need to hit your profitability goal
What tools, processes and people you need to make it happen
Next, break down your conversion rate. This helps you determine how much money you will need in order to get clients. Let's say that for every client you have, they are worth $400K on average. This means that for this year, you will need 100 transactions to reach $40 million. You can work backwards with your conversion rate to find out what it costs per client. Take a look:
How many transactions will I need? ($40 million ÷ $400K = 100 Transactions)
How many new leads will I need to generate? (100 Transactions ÷ Conversion Rate (5%) = 2,000 New Leads)
What will it cost me in my marketing efforts? (2000 new leads x $10/lead = $20,000)
Now, using the numbers we've discovered above, let's work on improving our conversion rate.
Take a look at the graph below.

One marketing channel, Google Adwords, has a higher conversion rate. The other marketing channel, Facebook ads, has more people come to its website but it's showing a lower conversion rate. But before you write off this marketing channel or stop investing in it because of the low conversion rate, let's look at what happens to these people who came here from an online visitor and became a lead. They go on to be clients at 20%! That is much better than Google Adwords is doing.
Even though Facebook leads have a lower conversion rate, those leads are worth more. To find out which lead source is worth more, divide how much money you make from one marketing channel by the number of leads it gets you. And if you increase your lead conversion rate by 1% (120 leads), it can have a big effect on your business.
You might be wondering how many people buy houses from the real estate agent. According to the The National Association of Realtors, typical conversion rate is 3-5%. This means that if you get 200 leads, you will have one or two customers or clients.
Now you have the necessary tools to determine which lead sources net you the most conversions.
Remember, leads are usually not ready to buy or sell. A lot of people do not have the money, so they don't want to buy or sell. When you generate leads online, only 3-10% of them are ready to do so in three months. So it's important that you focus on lead conversion. That means making sure they are qualified leads who will be ready soon enough to buy or sell their home within three months.
Throughout this guide, we'll be teaching you the secrets to easily netting the highest conversion rate possible from your lead sources. So keep reading!