Tone of Voice is important when addressing your viewers, and each Customer has a different Tone of Voice. Before creating any content, let's determine which Tone of Voice we should use when writing for our Customer.
To find the Customer's Tone of Voice:
From the left-hand menu choose Users → All Users and select the Customer's username.
You can find Tone of Voice near the bottom in the Personal Information section.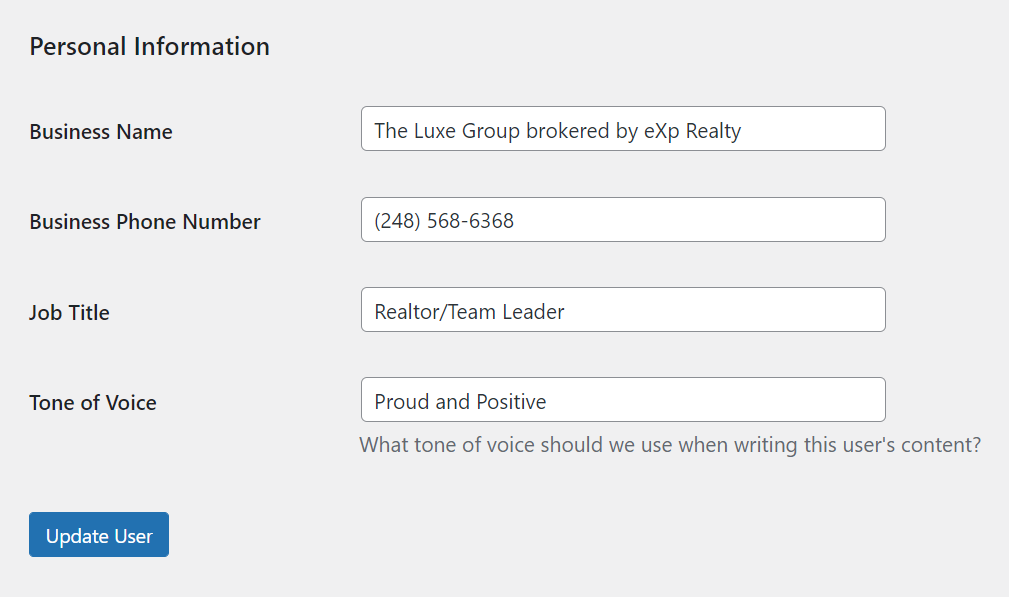 If the field is blank, you will need to determine the Tone of Voice using Jasper. Here's how to do that.
From the Primary Dashboard, visit the the Onboarding Submissions page and select the submission form of the Customer.
Copy the Description of Your Community section.
Log into Jasper and click here to bring up the Tone Detector page.
Under Content Description, paste the text you copied. Click Generate.
Jasper will try to determine the Tone of Voice based on the description you pasted in. (It will make a few attempts that should arrive at a similar conclusion.) Copy the description of the tone (in the example above, the tone would be positive and upbeat).
In the TownSite Dashboard, go to the Customer's User profile (see above) and paste what you copied into the Tone of Voice field. Click Update User.