This section provides guidance on how to set up the Social Media Channels for Customers, and which information to use while doing so.
Facebook
The Facebook page must be created first. Log in to Facebook using the public TownSites Facebook account (see Logging In). After signing in, visit this link and then click the Create New Page button. Fill out the following fields:
Page Name: Use the TownSite name with "- (city), (state) Community" appended to it. For example, "Northville Now – Northville, MI Community".
Category: Enter "Community Center" as the category.
Description: In the Onboarding Form, the Customer should have filled out a description of their community. Use the first paragraph for the Page Description (it needs to be short).
Profile Photo: Look in our Community Resources for a photo that best represents the Community. Use our cropping technique we used when creating the headshot to insert a square image for the Profile Photo.
Cover Photo: Go to the TownSite Frontend, and save a screenshot of the header banner (See the example shown here). Use this as your Cover Photo.
Note: Take care not to include the navigation bar in your screenshot.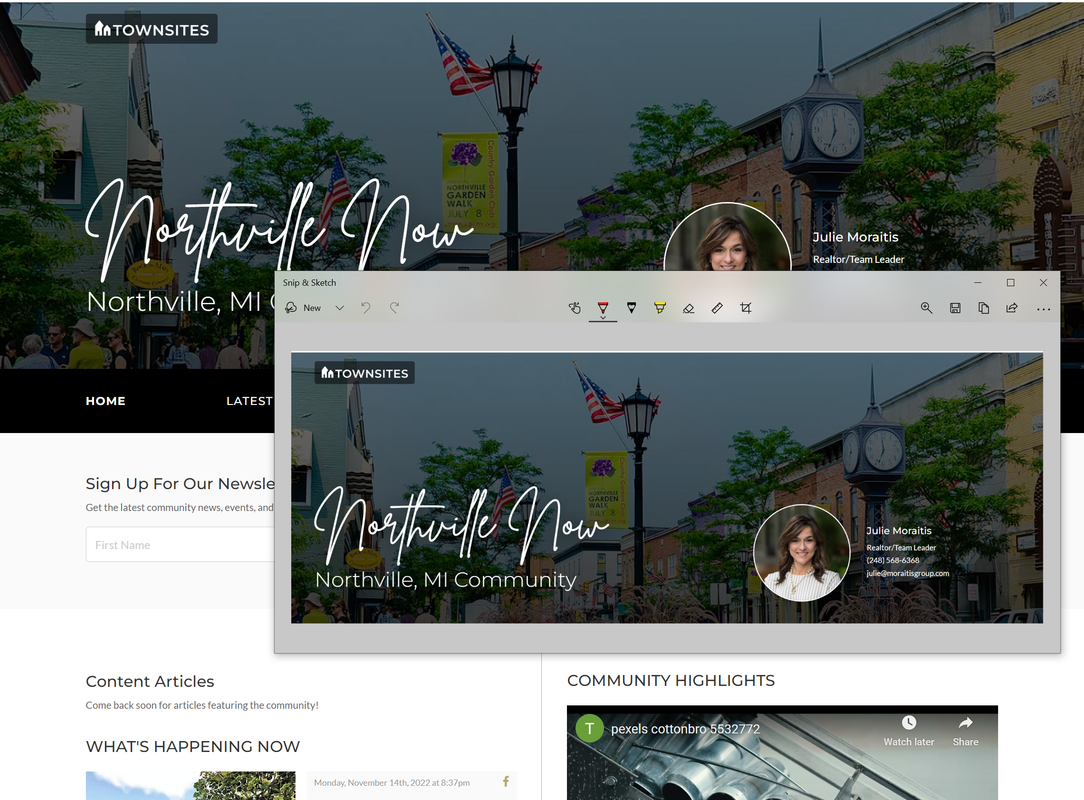 Next, add an Action Button. Choose "Sign Up" and link to the Customer's TownSite, with #signup appended to the URL. For example, https://northville.townsites.org/#signup. This will take the Visitor straight to the Newsletter signup form.
We don't need to connect WhatsApp or invite anyone to the Facebook page, but we do want to create a Username. Here's how.

Ideally this Username should be the TownSite name, without spaces. (e.g., NorthvilleNow for a TownSite called "Northville Now".) Remember this Username, as we will be using it for the other Social Media Channels.

Granting Admin Access to the Facebook Account
Lastly, we will need to to grant access to the Facebook page for the Customer.
Still logged into Facebook, click here to go to the Profile Access page.
Under People with Facebook Access click Add New → Next.
Start typing the Customer's email address until the Customer appears. Click on him/her.
Turn on Allow this person to have full control, then click Give Access.
That's all for now. Before moving on, take note of the URL of the page you created, specifically the part just after "facebook.com/". You will need this later.